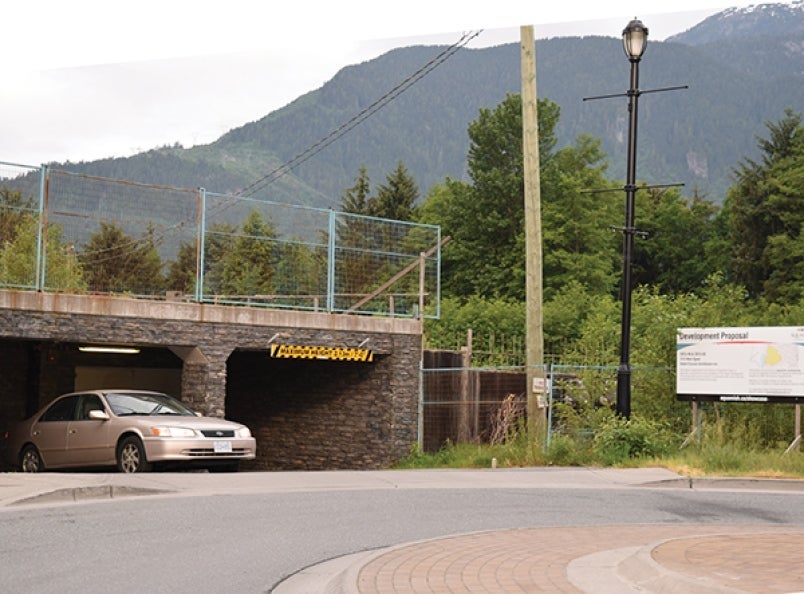 A 
half-completed multi-family residential project is moving ahead again following a public hearing at council Tuesday night.
The current Aqua development sits on the eastern part of the site, but plans for development on adjacent property at 1188 Main St. were shelved when the project went into foreclosure following the 2008 recession.
In the previous plan, 98 units were slated to be built, of which 82 were to be apartments and 16 townhouses. The new zoning will permit 61 townhouses in eight buildings with a maximum height of 12.8 metres.
The site would have 126 residential parking spaces as well as 16 stalls for visitors to the property.
District of Squamish planner Matt Gunn outlined the changes for council during the hearing, including the change in density.
He cited some issues that staff feel need to be addressed, such as flood mitigation concerns and the proximity to the district's central lift station for wastewater, which could mean odour and noise. A staff report says the applicant has agreed to address this.
One of the measures proposed for the nearby stormwater pond is a separator for oil and water. This is estimated to cost $360,000, which includes $38,000 for engineering services. The applicant has agreed to cover $25,000 of the engineering costs.
As well, the Aqua developer has agreed to a Community Amenity Contribution of $170,000. Of this, 75 per cent would go to affordable housing, 20 per cent for general amenities and five per cent for childcare.
The existing site does have space for activities, Gunn added.
"There is an unfinished recreation centre in the existing building," he told council.
A couple of Main Street residents spoke in favour of the proposal, saying they were pleased to see the project moving ahead. Phil Dubrelle said he has had concerns about the odours and noise, as well as wildlife in the area. He seemed pleased there were some measures to deal with the pond.
"It'd be nice not to refer to it as 'Shrek's swamp' anymore," he said. 
Similarly, Angie Cavanagh said she was looking forward to having the nearby development  finally completed.
At the regular council meeting that following the hearing, Councillor Doug Race recalled the original development and was glad to see the remainder proceeding.
"This will certainly be an addition to that development," he said.
Council passed the third reading for the rezoning motion unanimously.
@ Copyright 2016 Squamish Chief