By Jeff Lee, Vancouver Sun, With A File From Matthew Robinson October 7, 2015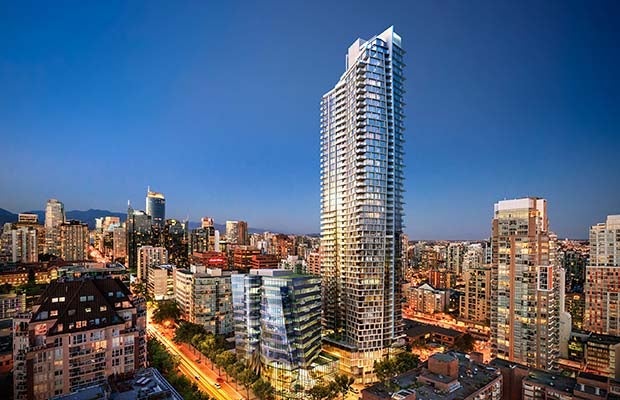 Burrard Place is latest in string of high-end developments in Vancouver's downtown coreIn a city where developers continually try to outdo each other and where prime locations are becoming rare, the soon-to-be built 53-storey Burrard Place tower may well hold the top prize, at least for a while.
It isn't just the scale of the building, which will be the tallest residential-only tower in Western Canada, or its location at the height of the downtown peninsula at Burrard and Drake that will make it notable.
It is the ostentatiousness that will come with living in a building that brags of its own "personal shopping lounge" and the dedicated service of a "concierge butler" who can ring up any one of a number of on-call chefs, bakers, bartenders and event planners.
Burrard Place is the latest in a string of high-end, design-conscious developments springing up in or planned for the downtown core. Among them is Westbank's Vancouver House, with a sales spiel dotted with terms and phrases like: "a standard of exclusivity," "unprecedented," and "unmatched."
Meanwhile, Westbank's Kengo Kuma design for 1550 Alberni St., Bosa's Ole Scheeren design for 1500 West Georgia St., and Intracorp's The Jervis at Davie Street are among planned towers driven by luxurious form and esthetic.
Co-developer Reliance Properties will have a presentation centre for its Burrard Place tower at the corner of Burrard and Drake at a later date. Reliance, which is co-developing Burrard Place with The Jim Pattison Group, hopes to attract the kind of clientele likely to be wooed by wine lockers, a "wine-tasting deck" and soundproof music rooms, in addition to the regular fare of weight rooms and health and wellness facilities, said president Jon Stovell.
The IBI Group-designed tower, with its 354 condo units, is part of a 1.2-million-square-foot development that includes four buildings, including a 13-storey Bing Thom-designed office tower and a new Meinhardt Fine Foods store. The commercial building also features a four storey Toyota dealership in the office tower.
At 167 metres, the main residential tower will be the third tallest building in the city, behind the Shangri-La and soon-to be-finished Trump Tower, both mixed-use residential buildings with hotels.
Stovell says Vancouver has come a long way from the days of Expo 86, when it "was the sleepiest little burg you could imagine." Now it has assumed a mantle as an international city, and it needs luxury housing to support that ideal. With that comes extremely tall buildings that challenge and puncture the city's skyline.
"Of course there is a divergence of the suitability of highrises, but many people see tall highrises as being iconic markers of prosperous cities and globally famous cities," Stovell said. "I think Vancouver, in the downtown, has certainly become famous for its skyline. The stature of the city is enhanced when the skyline is punctuated by these high buildings."
Construction of the residential tower will begin in early 2016, while construction of the office tower will begin next fall. Both will be ready for occupancy in the spring of 2019.
The condo tower will have 53 floors, but be marketed as 60 storeys because all floors containing the number four, as well as 13, have been eliminated for cultural and superstitious reasons. The residential tower units will sell for around $400,000 for a 450-square-foot unit up to $20 million or more for a two storey, 4,500-square-foot penthouse. Similar luxury real estate developments downtown such as the Fairmont Pacific Rim and the Shangri-La have generally sold well in the past, said architect and real estate consultant Michael Geller.
The one exception, Geller said, is the Private Residences at Hotel Georgia, where there are still two sub-penthouses for sale for approximately $8 million each and a penthouse priced at $18 million.
Developers usually have to sell between 80 and 85 per cent of the units in such buildings to cover their costs, he said, with the remaining 15 to 20 per cent providing the profit margin.
Buyers of such units fall into two general categories, Geller said. Some are international buyers who don't live in Vancouver, but may purchase a luxury unit as a second, third or even fourth residence. They could also be purchasing for children or family members.
The other category is empty nesters who have sold a singlefamily home in Vancouver for $2 or $3 million and are looking to move into an apartment in the up to $1.7-million price range, Geller said.
"Increasingly, these buildings are appealing to long-standing Vancouver residents, some of whom long said, 'I will never live in an apartment,' " he said. "They're enjoying a more carefree lifestyle where they can sort of lock the door and either enjoy their second home at Whistler, on the Island or in the sun somewhere else."
Anne McMullin, executive director of the Urban Development Institute, said developments such as this show Vancouver is becoming a more "international, world-class city."
"I think whether it is concierge butlers or things like that, it is an indication of the continued sophistication that Vancouver is developing," she said.